TLDR; The marketing needs of your practice change as it grows. Making sure your team can effectively manage patient leads is essential to getting a good ROI. Newspapers, other print, radio and TV can all work well in the right situation. Your website needs to be up to scratch as you move forward. Adwords is the first step, then Facebook and other PPC platforms. If managing in house, train your team. Look at Practice Unleashed to help you do that. Get help with strategic advice and audits here.
---
Marketing a larger practice is very different from marketing a start-up or solo practitioner practice. In this post we're going to dive into things to consider when marketing a larger practice, and using our experience recommend certain approaches over others.
We're going to define a larger practice as 5 practitioners or more, with one or more practice locations.
As a practice starts to get to this size, the practice owner is often starting to move into the role of general manager, and is often practising less. Or alternatively a practice manager is employed and manages the day to day running of the business.
If they haven't already, the business becomes aware that a regular supply of new patient leads is essential to keep the business afloat and growing. To this point the practice has probably been relying on word of mouth and referrals from other practitioners, along with physical outreach approaches (talks at clubs etc.). These approaches continue to be essential and should be systematised to ensure they keep running without any hitches.
These lead generation approaches mostly rely on education and reaching out to prospects who are not actively searching for your solution at that moment. They rely on people remembering your service when they need it. That's why constant repetition of your message is needed. In addition these approaches can be more difficult to scale as they are time intensive.
Leaky Bucket?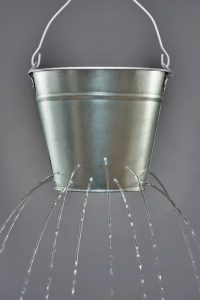 So we need to add extra new patient generation strategies. But as most of these strategies cost money to implement, you need to make sure that any leads you generate will be handled well by your team. Otherwise you're effectively pouring leads into a leaky bucket. They will leak out and your money will be wasted.
Typically this means ensuring your reception team knows how to handle enquiries so as to increase their chances of converting to a new patient. Effectively you need to train them to be sales consultants as part of their role. This may upset some existing team members but if you are committed to growth, it's a change you must make.
You also need to ensure that your practitioners and follow up systems are setup to make sure a patient stays for their full course of care. We're not talking about over-servicing; just making sure that the patient's problem is as fully rehabilitated as possible. Higher numbers of patients dropping out of care early will constrain your efforts to run profitable marketing campaigns and lead to sub-optimal patient outcomes.
Expanding New Patient Generation
With these in place you can leverage marketing techniques to generate more new patients. Let's discuss these:
Newspaper Advertising:
Believe it or not, newspaper advertising can still be very effective. Like with any campaign, it's important to know your target market. And if your target market reads newspapers then that is where you should advertise. Typically the over 60's, retired age group will work well here.
Other Print Publications:
Club newsletters, school newsletters and other print publications can be effective mediums depending on your target audience, and are often very affordable.
Radio & TV:
If you're a regional practice and particularly if you're running multiple practices in a regional location, radio and even TV ads can be very effective. For those in the cities, the diluted viewers/listeners will reduce the effectiveness unless you have locations across all the geographic areas covered.
Website:
It's around this time that the practice will look at revamping their practice website. Budget websites will rarely deliver the SEO performance and conversion optimisation that a practice at this stage needs. Factors like on-page search engine optimisation, mobile optimisation, speed of hosting and on-site conversion optimisation will have a big impact on the search engine rankings and new patient numbers your website produces. Our article on practice websites covers it in detail here.
Email Marketing:
Email marketing is generally less useful for new patient generation, though it can work well with lead magnet approaches where someone opts-in for a report or similar and is then sent a series of emails aimed at converting them to a new patient.
Where email shines however is in improving new patient retention and dormant patient reactivation. Sending new patient education emails can also increase referrals and can be very customised using systems such as ActiveCampaign. We can assist you in implementing systems such as these.
Adwords:
Once your practice website is up and running, you should be running Adwords ads to targeted pages on your website. Google is where people go when they are looking for services like yours, and Google is squeezing the so called "free" organic listings down the page in preference to their paid Adwords ads. While this can seems frustrating, it's much quicker to get results with Adwords than SEO.
Facebook:
All practices regardless of size should have a Facebook page, and ideally should have someone posting to that page at least a couple of times a month.
Beyond that, we wouldn't normally recommend expanding into Facebook ads on any large scale unless you have a working Adwords campaign and you're looking to expand, or if your target market is better reached through Facebook.
Once you decide to go there, there's a variety of options including simple newsfeed image ads to your website, ads to Messenger, "Lead Ads', boosted posts, video ads and more. Which one to use will depend on your budget and aims.
Search Engine Optimisation (SEO):
Despite the encroachment of ads on the search results, many people still specifically avoid clicking on ads and go for the organic results. Not only that, studies have shown that click through rates on both organic and paid listings are higher when both are present.
As a practice gets larger it can be worth shifting your SEO focus beyond just local search terms like "Melbourne chiropractor" or "London physiotherapist". Consider terms most relevant to your profession. "Back pain" for a chiropractor, osteopath or physiotherapist, etc.
Consider also expanding your content production to include blog articles, videos, infographics and even podcasts.
Other Ad Platforms:
Beyond Adwords, there are several other ad platforms you can consider including Bing and Ad Roll. Ad Roll in particular allows remarketing for health related website (unlike Adwords), and can provide an expanded reach if you're max'ing out your Adwords results and/or are needing results at a lower cost. Note however, you can only market your brand and are not allowed to make reference specific health conditions the user may have using Ad Roll ads.
In House or External?
As your practice grows you need to evaluate whether marketing is best managed in house, with an external agency or a mixture of both.
Many practices start with an existing team member who runs the marketing as an extension of their current role. The biggest challenge with this is ensuring that the team member has the skills needed to implement and monitor campaigns effectively across a wide variety of platforms. Even with a dedicated full time marketing role, this same issue can arise. To answer this problem, we created our Practice Unleashed training hub and forum. It contains extensive training on these digital marketing approaches for healthcare practices.
Contracting your marketing to an external agency can also be an effective strategy. The cost can be similar by the time you factor in salaries, benefits etc.
Auditing your Current Approaches
A service that we provide is a strategic review of your current marketing. From there we will make high level recommendations on the best way for you to leverage digital marketing to fuel your practice's growth. This service is free and can be booked here.
If you are running existing SEO, Adwords, Facebook or other PPC campaigns we can perform a detailed audit of the platform, identify any weakness and then provide you with detailed recommendations to correct those and improve campaign performance. The cost for this varies depending on the degree of complexity. Book one of our free strategy sessions as a first step and we can provide no obligation detailed pricing on that call.
Summary.
The way you market your practices changes as it grows and as you get more locations. Moving beyond time intensive marketing to scalable approaches is essential, but before you do this ensure your team is able to cope with the leads. Then consider several of the marketing approaches discussed in this article to help you reach your practice growth goals.